Y.K. BAE researches & develops advanced photon science & technology that enables next-GEN space endeavors & energy generation.
PHOTONIC LASER THRUSTER
Without using propellant, Photonic Laser Thruster (PLT) is capable of maneuvering spacecraft at unprecedented high-precision and propelling spacecraft to speeds approaching a fraction of the light speed.
PHOTON TRAP
Our patent-pending Photon Trap provides a 10-times reduction in SWaP-C (Size, Weight and Power, and Cost) of HEL (High Energy Laser) Metrology and T&E (Testing and Evaluation) facilities with much higher safety.
MIMS X-RAY INVESTIGATION SETUP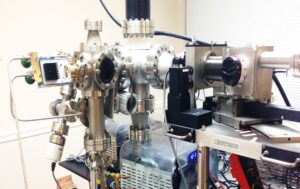 The newly discovered ultra-energetic Metastable Innershell Molecule (MIMS) is investigated in this setup to develop pathways to generation of super intense soft-x-ray beams at high energy efficiency for a wide range of applications from semiconductor lithography to inertial nuclear fusion.
Copyright © 2007 – 2021 Y.K. Bae Corp. All Rights Reserved.